Reservations Oktoberfest Munich 2018 – 22nd September to 7th October.
Are you looking for those hard-to-get Oktoberfest 2018 ticket reservations? Then you have come to the right place! Popular belief has it that the Munich Oktoberfest is all about swilling gallons and gallons of beer, eating as much pork sausage and spit-roasted chicken as possible before throwing up, with the men wearing Lederhosen (leather breeches) and the ladies a dirndl (German traditional dress). In a sense, this is true. There is, however, a bit more to the Oktoberfest than meets the glazed eye… Before we continue, we wish to point out that premium Oktoberfest tickets can be obtained here at ProvidingTickets!
Oktoberfest 2018 Tickets
September 22nd – October 7th, 2018
Theresienwiese, Munich
Delivery Reservation Documents will be send to your address via ensured courier. / Personal delivery to your hotel.

Special Package Discounted rates are available if you don't wish to make a reservation in a specific tent. Then we choose the tent for you. Time and date will then be guaranteed.

Reservation times: Afternoon: approximately from 11am – 4pm. Evening: approximately from 5 pm – end.

Including consumption vouchers for 2 x Mass (1 Mass = 1 Liter) beer and ½ roast chicken per person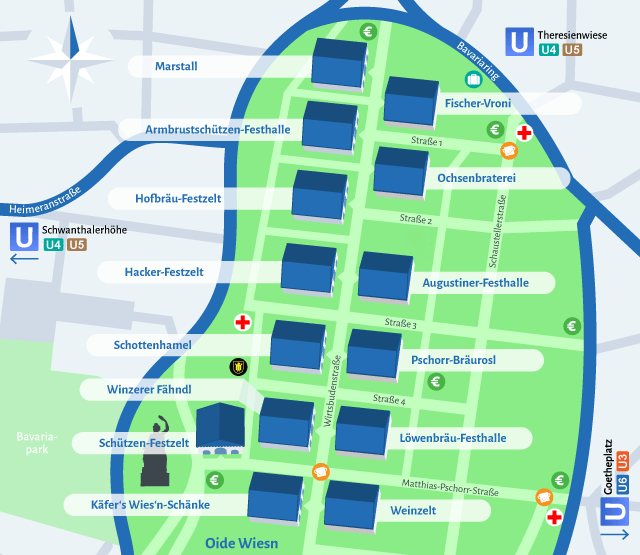 About oktoberfest: history, traditions, getting to the grounds
It all started in 1810, when the Bavarian Crown Prince Ludwig married the Saxon-Hildburghausen, Princess Therese. The people of Munich celebrated this wedding on the fields in front of the gates to the city, the so-called Theresienwiese, named after Princess Therese. This also explains why the locals exclusively refer to the Oktoberfest as 'die Wiesn'. Year after year, the wedding anniversary was celebrated, and all kinds of weird and wonderful events were organised, such as tree climbing competitions and goose races. At the time, you did not need Oktoberfest tickets to be allowed access to the Oktoberfest grounds.
When the city of Munich began to allow beer on the grounds of the festival, local breweries stepped in, and soon the site was swamped with beer stands. Later on, these were replaced by the beer halls and tents we know now. The popularity of the Oktoberfest quickly spread across the globe, and nowadays people from all over the world travel to Munich to take part in the festivities.
Traditionally, the Mayor of Munich taps the first barrel of beer, after which he or she shouts "Ozapft is!", which is German dialect for "It's tapped"! This effectively kicks off the festivities, and only then is the sale of beer allowed. On Saturday, September 16th 2017, the Schottenhamel tent is the place to be, if you want to catch the official opening ceremonies. At noon, the Mayor of Munich will have the honor of tapping the first keg of Oktoberfest beer. Once the barrel has been tapped, all visitors will then be allowed to quench their thirst. It pays to arrive early in order to experience the festivities up close and personal and it's quite common for visitors to come around 9 am to secure good seats. The festival will last until October 3rd 2017. Planning for 2018 already? Oktoberfest 2018 is scheduled for  September 22 – October 7.
Did you know that Oktoberfest beer is known as Märzen? This type of beer is a bit darker and stronger than normal beer. Its name is derived from the fact that, before the advent of the refrigerator, Oktoberfest beer used to be brewed in March (März), allowing it to come to fruition over the summer. Only six breweries are allowed to serve beer during the Oktoberfest, and this is mainly to do with the strict German beer brewing standard (das Reinheitsgebot): Augustiner, Hacker-Pschorr, Hofbräu, Löwenbräu, Paulaner, and Spaten.
Interestingly, Oktoberfest beer comes in Maßkrugen which contain one litre of beer and cost about 10 euros per mug. The traditionally clad beer maids are supposed to be able to carry 10 mugs at a time.
Have you always wanted to attend the legendary and globally popular Oktoberfest but have never get round to securing those premium Oktoberfest 2017 tickets? Whether you are alone or with a group (of colleagues), just get in touch with ProvidingTickets, and we will source the Oktoberfest tickets you require.